Its a long read but here's our story:
I was fortunate enough to bag my first bear out of the Ocala National Forest on Saturday morning. Me and my buddy went in fully expecting not to get anything (I was in that group of people thinking it wasn't going to be easy to meet the full quota) but was extremely pleased with the outcome. Especially since I've never hunted Ocala NF or even stepped on the property before!! I've driven thru it many times on our way to Ocala to see family and have actually seen bears on the side of 40 but never stopped before.
I knew that I was not going to be able to go and scout ahead of time like I normally would, so it was off to Satellite Imagery hell for a couple weeks for me :Angry. After spending many hours scanning almost every nook and cranny of Ocala NF (There's a couple unusually green spots showing up in some odd places there..... just saying) I decided on where I would hunt Saturday morning, Saturday evening and Sunday morning. My buddy wanted to go as well since he's never seen a Florida Black Bear or been to Ocala NF. He didn't pick up bear tag as he was too cheap but brought his bow to try his hand at a decent buck (its crazy they don't have antlerless out there!!). We packed our camping gear and made enough sandwiches for 2 days of hunting. Met him at his house at 3:15, trucked packed by 3:30 and on the road by 3:45.
On the way there I once again started to look over the maps and then decided to change our Sunday morning hunt with our Saturday morning hunt (Good thing in the end!!). We get to our hunting spot at Ocala NF at 6:15 and make our way to the area we planned on hunting. On our way there, what looked like a shallow watering hole turned out to be an old drainage canal that had mostly dried up. About half way there I found a deep hole in the tall reeds and sank up to my knees in water :kick!! Nothing worse than wet boots and squishy socks...... so we backtracked to the truck and took a longer way around (a hell-of-a lot drier too!!). We finally get to our spot at 6:45 and are up in the trees by 6:50.
Here's my buddy in his tree: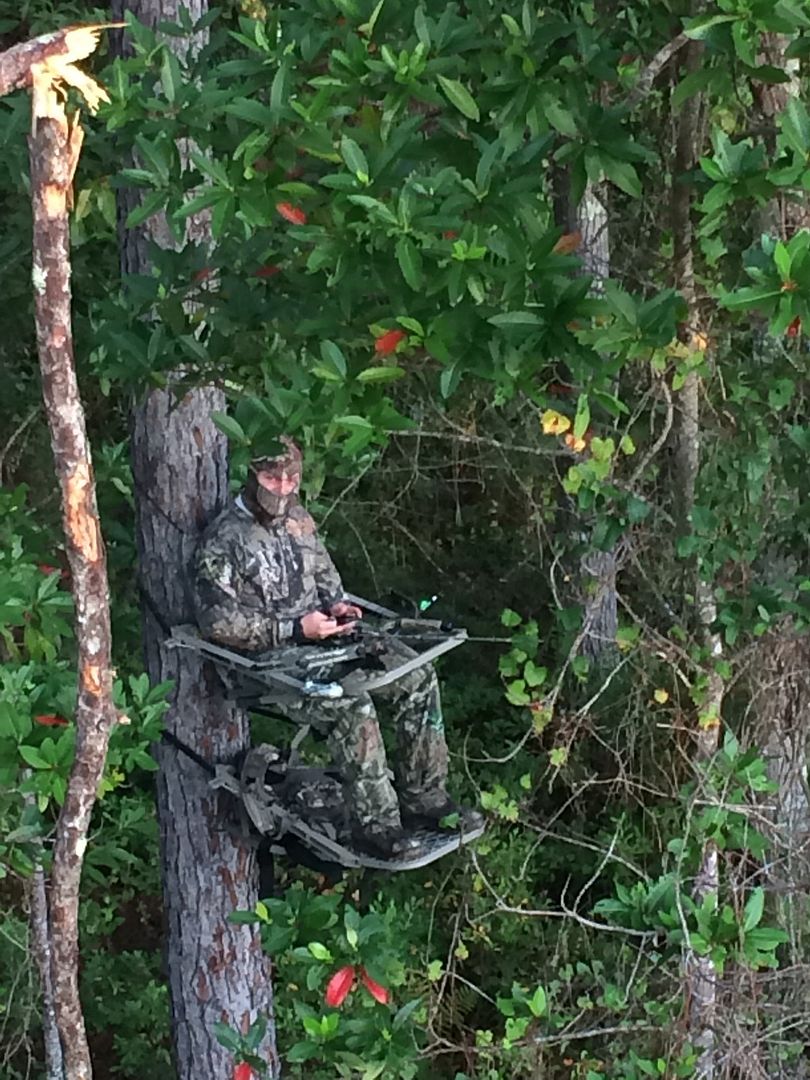 Here's me in my tree: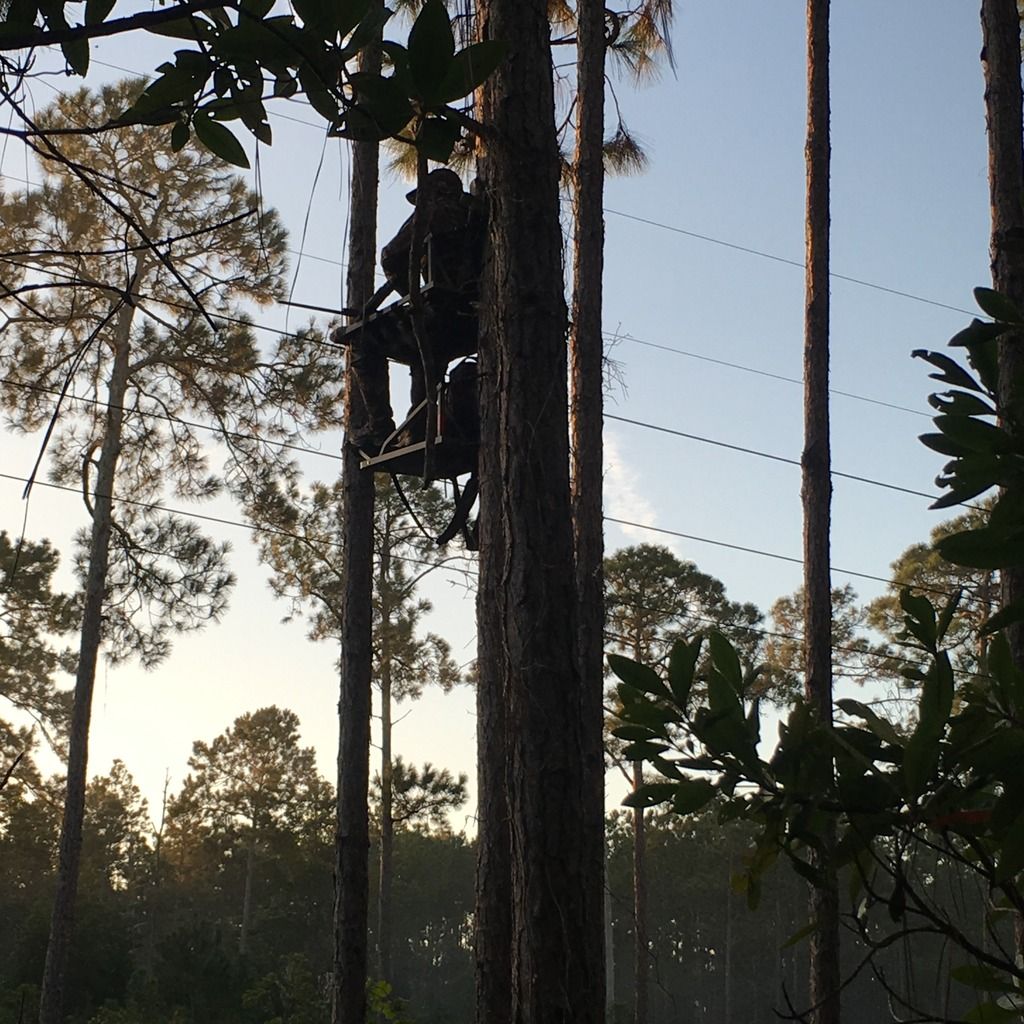 We sat till 9:45 with only hearing the mosquitos buzzing in our ears, squirrels running around in the trees and birds singing their morning medley. Once on the ground I was reminded of the fact that I still had squishy wet socks and enough water in my boots to drown a fish. I was reminded of a guy I used to see at Bull Creek (and later on at Three Lakes) many years ago walking the woods with no boots on (Some know him as Barefoot Dave. I called him deer slayer :hail as he was always dragging something out of the woods!). As I reminisced on the first time I saw him walking thru a swath of planted pines as quiet as a church mouse I thought to myself "Why Not??"? So off they came. Left them to dry on the stands while we walked around a bit.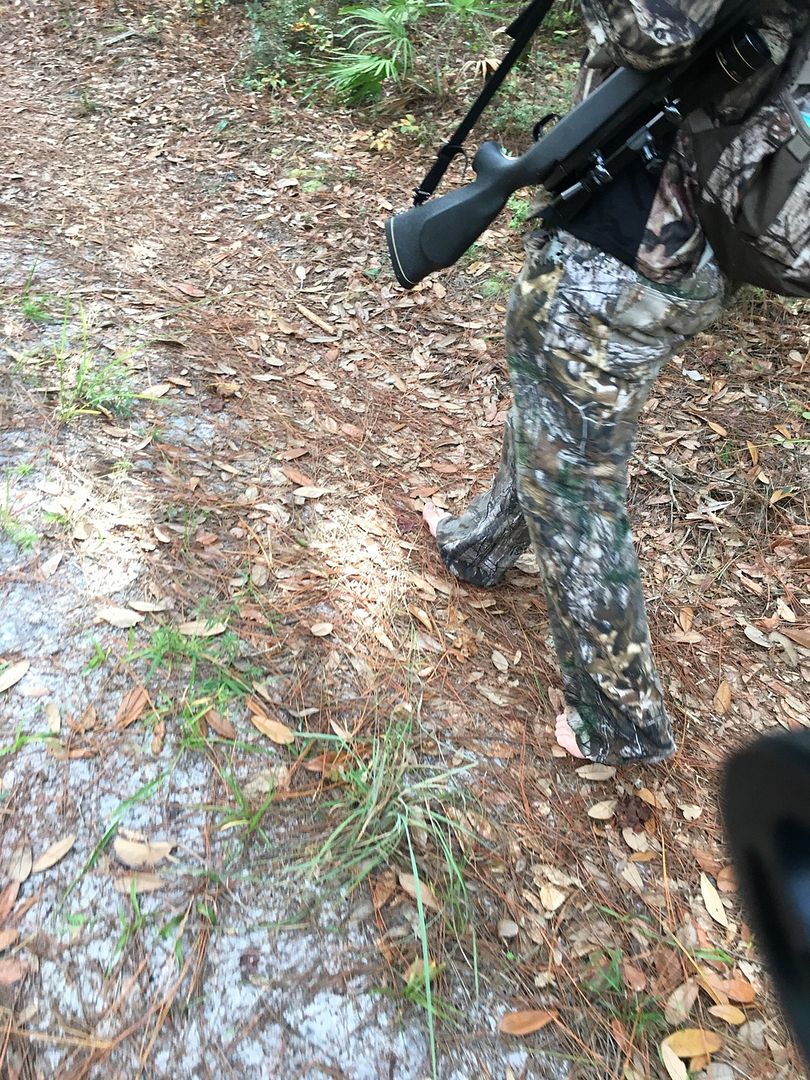 You know..... there's something to this no boot thing! I really noticed a difference in how loud my steps were walking thru the brush and trails..... I will defiantly be experimenting with this at a later date!! :wink
We walked roughly 3/4 of a mile down a trail and hit a service road. We decided to turn around and make our way back and hit a couple small trails that branched off this one. We knew we were in the right area when we saw a lot of these: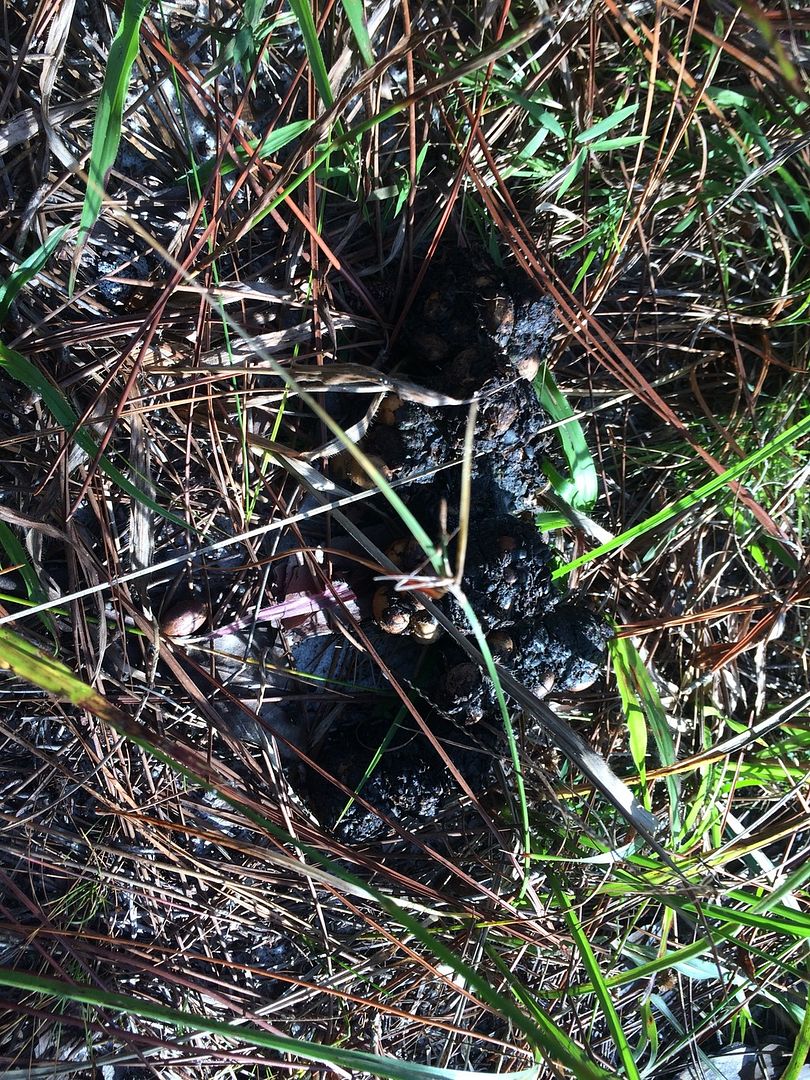 As we hit the first side trail we heard what sounded like something falling out of a tree :huh?!?! We stopped and listened to see which direction it came from. After a minute or so we saw some movement roughly 30 yards off the trails into the brush and it was headed our way!! My first thought was that it would be a Deer or Hog so I tell my buddy to get ready (He didn't have a bear license so he was looking for a hog or a buck). About 10 yards off the trail I see a black hulking blur thru the brush and immediately think Big Hog (Remember.... I honestly did not think I was going to get a bear or even see one so the thought hadn't crossed my mind yet...... even though we were in the woods looking for one..... yea..... however I digress)!! About 5 yards off the trail I get a good look at the head...... HOLY ***** ITS A BEAR :hairraiser!!!! Yes, I actually said that out loud to my buddy who said the same thing at the exact same moment. We immediately tucked ourselves behind a palmetto bush to watch. As it came out of the brush onto the trail (mind you it was only 15-20 yards in front of us at this point)We got to see it's full size.... ITS A SHOOTER!!! we both say at the same time. The bear turned away from us and started to slowly sniff the ground and walk away from us. We watched it for what seemed like an eternity (probably only a few minutes but felt like forever) and after it got about 40 yards away I asked my buddy if he heard anything romping thru the bushes (I sure as hell didn't) and if he thought there were any cubs with it. He said he didn't hear anything and we watch for another minute till it was about 50 yards away.
From our combined limited knowledge and biology research from the previous weeks of preparing, we knew that if it had cubs they would be within 50 yards of her. I looked at him and with the biggest *****-eating grin you've ever seen he nodded and said CHOOT IT!! CHOOT IT!! :machinegun I released the safety on my 300 Weatherby Magnum (Overkill for Florida I know..... wasn't sure what to expect so better to have a little extra firepower) and waited for it to meander off the trail again (Wasn't much of a trail we were on but you could see where people have been walking thru and didn't want to take the chance of someone being on the trail and having an accident). It walked off the trail to an old oak tree about 35 yards off the trail. With its nose down quartered away I pulled the trigger and hit it in the left caboose :banghead!! After a couple seconds it started to dash into a thicket. I cycled another round and hit it in the chest on the run. With the ringing of now 2 shots from the Weatherby (those who've shot one know what I'm talking about:willynilly) we listened to the crashing for a couple more seconds until everything became quit.
At this point it finally hit me that I just shot a bear..... and its right in the bushes in front of me :banana!! At this point we waited for a couple minutes to see if we heard anything. After not hearing anything I set down the rifle and out came the 10mm. Chambered a round and started tracking:
Warning: Mild to Moderate Language
[video]
http://s825.photobucket.com/user/Mackok ... 1.mp4.html
[/video]
After making sure it was dead we drug it's heavy butt out of the thicket back to the trail. Here she is on the trail: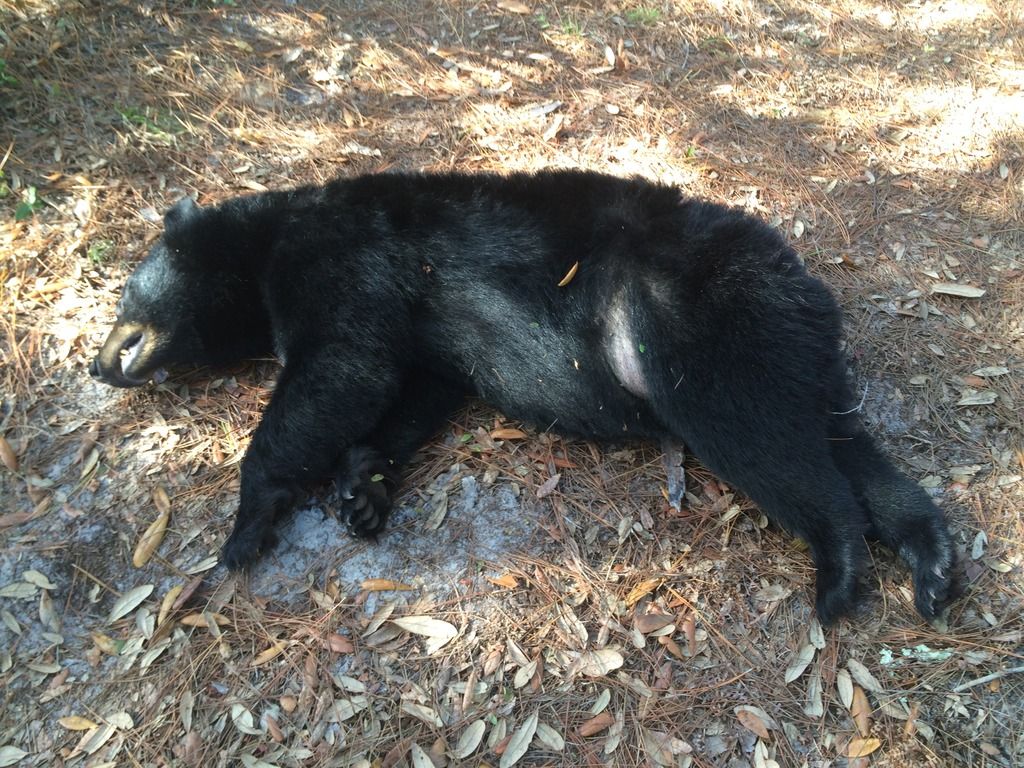 After getting it on the trail we realized it was female and had a beautiful figure...... for a bear :wink. We sat down for a couple minutes and let it all sink in....... :crowd HOLY CRAP WE ACTUALLY GOT A BEAR!! After talking for a few minutes on how incredible it was to have never been to a place before and have a successful hunt within hours of opening morning my buddy walked back to the truck and got the game cart.
After dragging her back to the truck we had the daunting task of trying to actually get her into the bed of the truck. Easier said than done!!! Man alive was she heavy!! After much fighting :cool we finally got her into the truck. Here are a couple pictures of her: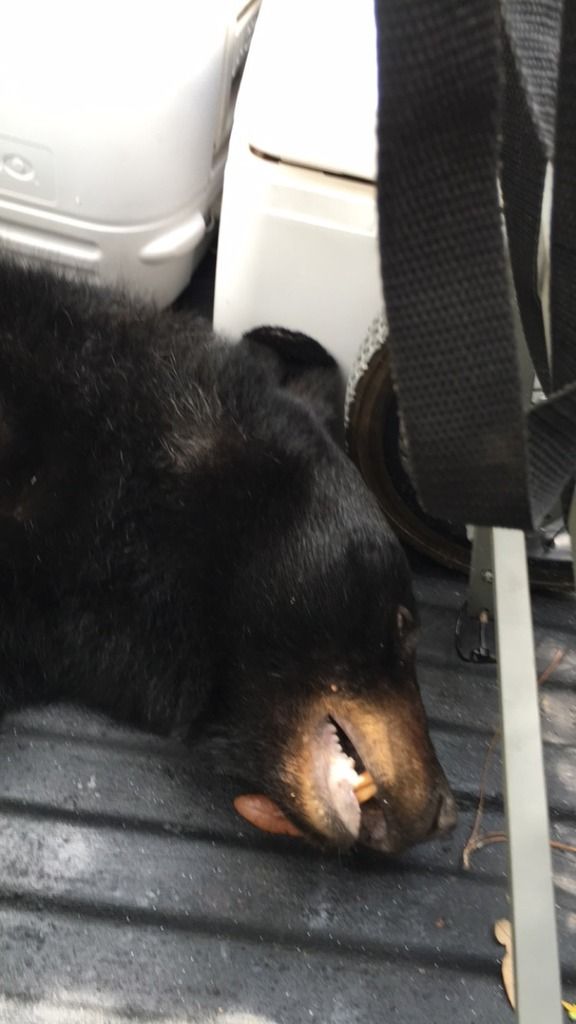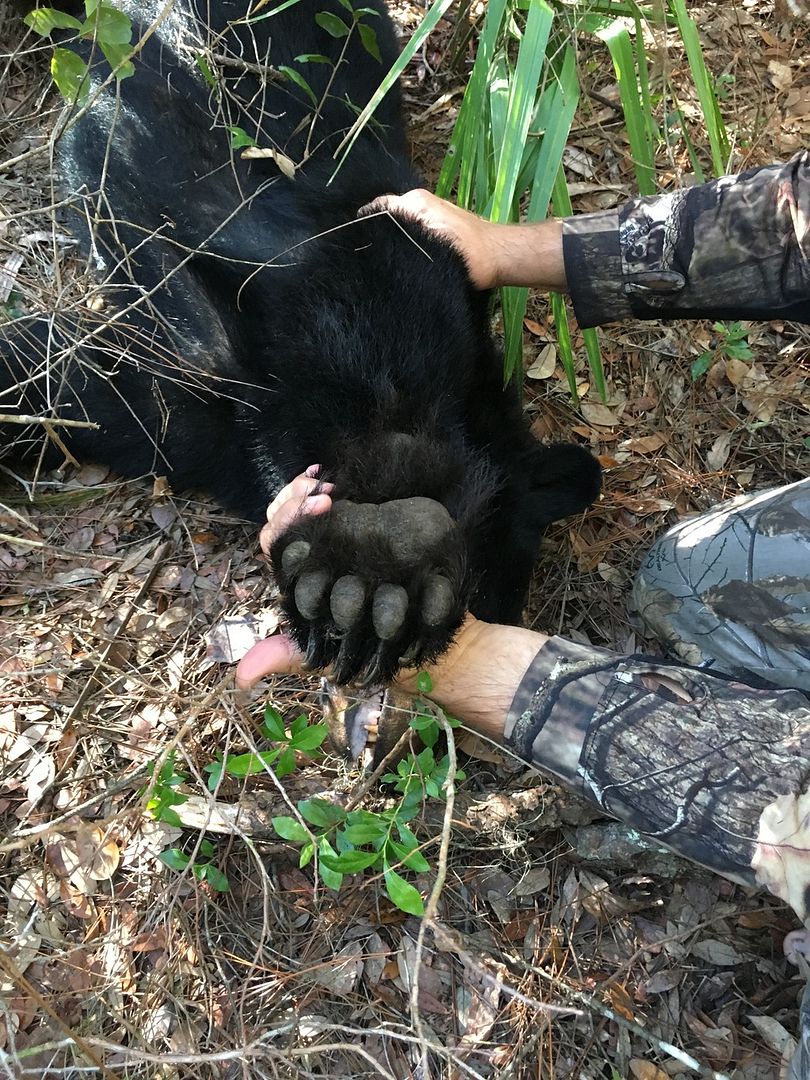 Now it was off to the check-in station at the North Ocala Bear Check-In Station. On our way there we were talking about how crazy of a morning it had been so far and wondered how much crazier it was going to be at the check-in station. As we pulled up there were roughly 15-20 people standing around and 3 other bears getting checked in. We backed in and waited our turn. Had the pleasure of meeting Mr. Newton (got put a face to a name I only knew thru various online websites) for the first time. Great talking to you Newton!! We ended up being bear #17 in that station and she weighed in at 214lbs! From the biologist there, it was a pretty average weight for a 3 year old female. Got her measurements, put a tag on her, put her back in the truck and off we went. Before we left the biologist mentioned a place in town where we could gut her if we asked the owner.
And the fun didn't stop there....... no-sir-e. We got into town (Silver Springs) and found the place he was referring to : Advantage Sports Center. They were very helpful and let us use their hoist...... which happened to be in front of the store facing the road :shrug. While in the shop he warned us that we'd have an audience quickly. Man was he not kidding!!! We hadn't even got her on the hoist yet and people were stopping and taking pictures. Being that it was our first bear we took our time gutting her to make sure we didn't scar the hide. We must have had 20 people stop by and take a look. When we were done we wrapped her up in a tarp, stuffed 2 bags of ice (16 lb's each) into her chest cavity and another 2 bags of ice around her to keep the meat from spoiling.
All-in-all a great trip with a great friend and an awesome time. We planned, made it out, tried and made it happen. I would like to thank FWC, their staff and all the people who finally made this hunt a reality. I'm glad I got to be a part of it. The staff at the check-in station were very courteous and very knowledgeable. I was very impressed. I was a little disappointed (kinda happy about it though) that all of these internet wackjobs that claimed they were going to be out in force by the thousands didn't show up. I'm looking forward to next year's hunt already!!